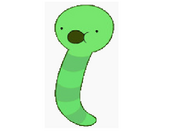 Worms
Worms are first seen extremely briefly in "Tree Trunks" in which they make a cameo appearance trying to eat an apple. They make another cameo appearance in "The Enchiridion!" in which they are in the trees when Finn steals a giant's dollar. In "Evicted!" a worm is on Finn's bed, squiggling along and making a radio wave sound like "Wowowowowowowo". Finn tells it "No worms on the bed!" and throws a book at it so it falls off. Many more worms were seen in the Tree Fort later in the episode in which Giant Worm King is there. It is unknown whether there, although there is a worm king, a Worm Kingdom.
Community content is available under
CC-BY-SA
unless otherwise noted.