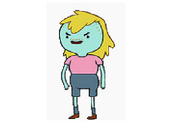 Tiffany
Tiffany makes his first and only appearance so far in "My Two Favourite People". Jake calls Tiffany to be his backup best friend/boyfriend when Finn and Lady Rainicorn become the best of friends. Tiffany makes a complete mess out of the job because he keeps on boasting and laughing because he is Jake's new best friend. He gets into a fight with Finn which is a mistake because he gets absolutely destroyed, and then he vows to one day become Jake's best friend. His life's aim is to become Jake's best friend which is odd because Jake almost never sees him.
Community content is available under
CC-BY-SA
unless otherwise noted.