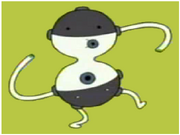 The Jiggler
The Jiggler first appears in "The Jiggler" when Finn and Jake find it in the forest and, considering there's no one around that could be its parent, Finn and Jake adopt it. Finn and Jake find it's really hard keeping the Jiggler, and with it there comes some really strange side effects. The Jiggler paints a picture of him and his family when it continually kisses the floor, and Finn and Jake find a secret entrance to a pool of Jigglers. But the largest Jiggler of all, the Jiggler Mama, won't accept her baby until Finn and Jake dip it in the juice that the Jigglers are bathing in and the Jiggler returns to its family.
Community content is available under
CC-BY-SA
unless otherwise noted.