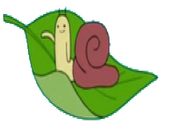 Snail
The Snail is a constant character in Adventure Time which the producers hide in every episode except "Trouble in Lumpy Space" and "Blood under the Skin". In "Slumber Party Panic it is seen on top of a candy person's head. In "Prisoners of Love", he is next to Slime Princess when she says "Yay!" In "Tree Trunks" Snail is on top of Tree Trunks' picnic basket. In "The Enchiridion!" Snail is right next to PB when she is saved by Finn. In "The Jiggler" the Snail is seen next to the Jiggler Mama during a close up, in "Ricardio the Heart Guy" Snail is seen on the dance floor near Slime Princess, and in "Business Time", the Snail is on the Gauntlet Lock while the Business Men are working on it. In "My Two Favourite People" the Snail is seen on the lake shore behind Finn, and in "Memories of Boom Boom Mountain", Snail is seen on the table next to Jake. In "Wizard" Snail is on the floor on "LEVEL 31!", and in "Evicted!" Snail is seen three times in the house hunting song. In "City of Thieves" there is a Snail shaped imprint on Jake's belly and in "The Witch's Garden" Snail is on the grass next to Finn and Jake's tree fort. In "What is Life?" Snail is seen on the floor after the Ice-o-pede attacks the Ice King and in "Ocean of Fear" Snail is sitting on the ruins in the middle of the ocean. The Snail makes many other appearances.
Community content is available under
CC-BY-SA
unless otherwise noted.