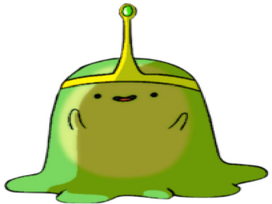 Slime Princess
Slime Princess is one of the main princesses in Adventure Time. She first appears in "Prisoners of Love" in which she is captured by Ice King. She appears later when she wants to marry Finn, but Jake says he poops his pants all the time, so Slime Princess Demands Finn gets his arms off of her. She appears later in "Loyalty to the King" as one of Nice King's many lovers. She is the first one to know about Nice King, as she meets him in the park and talks to him, though he wrongly accuses her of being paid for the date. She also appears in "Video Makers" in one of Finn's scenes. She is meant to jump over the river and escape the crocodiles. She does this at first, but then a crocodile gets her and she is thought to be dead, until she floats up kissing it. In "Loyalty to the King" Slime Princess was one of the princesses considered to be beautiful by Nice King.
Community content is available under
CC-BY-SA
unless otherwise noted.