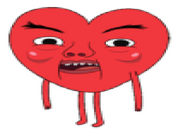 Ricardio
Ricardio is introduced in "Ricardio the Heart Guy". Ricardio is secretly the heart of the Ice King. Finn hates Ricardio possibly more than anyone else in the land of Ooo (probably due to the fact that he's the Ice King's heart) but Finn hates Ricardio most of all because PB fancies him and Finn has a massive crush on PB. Finn also hears him talking about science and says "Science! I can't compete with that!". The Ice King tells Finn and Jake later in the episode that Ricardio was his heart that escaped in an experiment gone wrong and his heart escaped from him. It had taken on a new role of Ricardio and won the hearts of many princesses. The Ice King crawled back to the candy kingdom to convince Ricardio to come home but Ricardio stuffs the Ice King in a dumpster and leaves him to die. Later on in the episode, Ricardio ties PB up and she has to be saved by Finn and Jake.
Community content is available under
CC-BY-SA
unless otherwise noted.