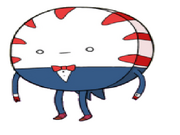 Peppermint Butler
Peppermint Butler lives in the candy kingdom as the royal butler to PB, working as a loyal servant to her pretty much all of the time. He, besides the Ice King, is one of the only Adventure Time characters with plain round eyes (the magic man arguably has ovals).
Peppermint Butler is generally happy and carefree, although he has a lot more responsibility with PB than just a butler. He is seen in lots of episodes servicing PB in ways like carrying her (in "Ricardio the Heart Guy"), working as a bodyguard and a jailer (in "The Duke of Nuts") and as a chef in "The Real You". Peppermint Butler seems to be extremely intelligent, like when he manages to stop Susan and her tribe from attacking him in "Susan Strong".
But Peppermint Butler also has a rather dark side to him, like in "The Eyes" Finn and Jake flashback on Peppermint Butler calling them to dispose of a dead goblin which he claims he "found" in the Candy Kingdom graveyard. He was probably the one that killed that goblin. Also, Peppermint Butler seems to have creepy relationships with Death. In "Death in Bloom" Peppermint Butler demanded flesh from Finn and Jake, and threatens to take theirs, and in "Mortal Recoil", he knew that Princess Bubblegum was possessed by The Lich when he hissed at her. Besides that, Peppermint Butler is a trusted and respected member of the Candy Kingdom.
Community content is available under
CC-BY-SA
unless otherwise noted.