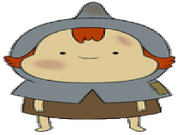 Penny
Penny is a cute little girl who appears in "City of Thieves" claiming that someone had stolen her picnic basket. She later tricks Finn into stealing the picnic basket from the King of Thieves, making him into a thief. Finn and Jake seek vengeance, purifying Penny so she claims she's pure. She then steals Finn's clothes, leaving him naked. At the beginning of the episode, Jake spots her and Finn tries to help her. Penny never appears again, and for all we can tell she is still evil and still has Finn's clothes.
Community content is available under
CC-BY-SA
unless otherwise noted.