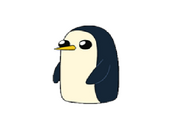 Penguins
The penguins are the minions and slaves of the Ice King. They live in the Ice Kingdom, and are probably also Ice King's bodyguards but do a bad job because in "What Have You Done?" Finn and Jake actually manage to capture the Ice King and take him to the plagued candy kingdom.
The Penguins are first seen in the originals, with Finn (or Pen, in the original) and Jake using them as snowboards. The penguins might also have a friendship with Finn and Jake because in "Prisoners of Love" they are seen in the beginning of the episode, riding Finn and Jake and having fun with them. The penguins are also seen in the episode "It Came from the Nightosphere" when Marceline's dad sucks out the souls of all the penguins in the Ice Kingdom. (Except Gunter).
Community content is available under
CC-BY-SA
unless otherwise noted.