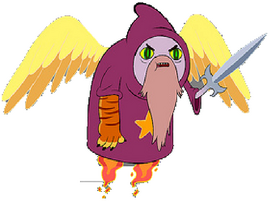 Old Wizards
The Old Wizards appear in "Wizard" who for most of the episode are hanging up at the top of the hall where Finn and Jake learn their magical powers. All of them were tricked into learning magical powers and taking the pledge of ultimate responsibility by BUFO. Their names are unknown but one of them is called Jeremy. When Finn is hung up at the top of the hall Jeremy is taken down by BUFO and buried alive. BUFO and Jeremy are seen later on in the episode when BUFO is trying to fit Jeremy in, as he seems to be struggling to stop himself from being buried. The Old Wizards help Finn get rid of the asteroid they are trying to defend the village from by casting the same powers he did.
Community content is available under
CC-BY-SA
unless otherwise noted.