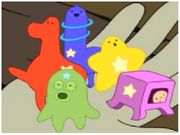 Nut Creatures
The Nut Creatures make a fairly small appearance in "Evicted!"In which Marceline is talking to Finn about her travels and she takes out a bunch of nuts. Finn says "nuts?" and Marceline tells him that these aren't just ordinary nuts. She squeezes them hard and the Nut Creatures come out or rather, the nuts turn into them. The green one that looks like an octopus or a squid squirts ink at Finn's cheek, possibly revealing that the nut creatures have abilities. The red one looks like a dinosaur, the blue one like some kind of space creature, the yellow one like a star, the green one an octopus or a squid and the purple one looks like an oven or a container with a face in it. All of them have stars somewhere on their bodies.
Community content is available under
CC-BY-SA
unless otherwise noted.