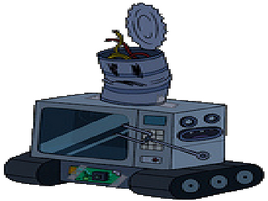 NEPTR
Neptr the Never-ending pie throwing robot plays a major part in "What Is Life?" in which Jake throws a garbage bag of butter at Finn and Finn creates a pranking machine that will throw never ending pies at Jake. Finn builds Neptr's shell and waits for something to happen. Nothing happens. Then a lightning bolt hits Finn's machine and it comes to life, making its creation similar to Frankenstein's monster. Neptr (whose face is in a different place than Finn had hoped for) meets Finn and tells him its name. It then comes up with a list of problems that Neptr wants fixed. To make Neptr fully functional Finn goes to the Ice Kingdom and gets into a big battle with Ice King that ends when Ice King shoots a lightning bolt at Neptr and he becomes fully functional. To escape from the Ice Kingdom, Neptr shoots some pies at the Ice King's Ice-o-pede and when Finn asks Neptr what he put in those pies, Neptr replies poison and poison berries. When Finn and Neptr return home, they find none but the Ice King in their Tree Fort. The Ice King gleefully reveals that since Neptr is generated with his power, Neptr will possess half the personality of the Ice King. Ice King takes Finn and Neptr into his Imagination Zone and shows him what will happen if he chooses to live with the Ice King. Ice King shows Neptr lots of princesses and tells him he will continue the tradition of capturing princesses. Finn tells Neptr to choose pranks, and Ice King tells it to choose princesses. Neptr chooses Ice King. Finn looks stunned, but all of a sudden Neptr reveals that he chose the Ice King to prank – hardcore. Neptr and Finn go prank Jake while the Ice King dreams of him and Neptr watching the sunset.
Community content is available under
CC-BY-SA
unless otherwise noted.