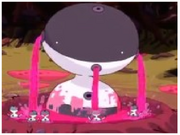 Jiggler Mama
The Jiggler Mama appears in "The Jiggler" near the end of the episode. The Jiggler mama has a whole family of baby Jigglers and to make them hers she squirts them with the very same juice that the Jiggler uses to draw a picture. The Jiggler mama won't accept Finn and Jake's baby Jiggler until he dips them into her juice, and when Finn stuffs the baby at her, she turns an electric colour.
Community content is available under
CC-BY-SA
unless otherwise noted.