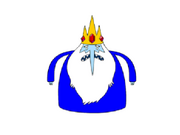 Ice King
The Ice King is the main villain in Adventure Time. He hates Finn and Jake, and Finn and Jake hate him back. The Ice King has many weird powers, like shooting ice, summoning ice, and flying with his beard. The Ice King's hobby is stealing princesses, and he is almost always sad. In "The Eyes" the Ice King admits that he watches Finn and Jake because he wants to know what it's like to be happy. You just gotta feel kinda sad for the Ice King.
In "Prisoners of Love" the Ice King steals all of the princesses in Ooo, and gets beaten up by Finn and Jake. The Ice king dreams of he and Cosmic Owl drifting across the night sky. In "Ricardio the Heart Guy", the Ice King rushes in late in the episode to tell Finn and Jake that his heart escaped from him and named itself Ricardio. This is one of the only episodes in which Finn, Jake and the Ice King work together. In "What Have You Done?" the Ice King Uses psychology to make Finn and Jake believe that he is innocent. In "Loyalty to the King" the Ice King shaves his beard and goes on a date with Slime Princess, but she mishears "An ice king" for "A nice king" so he takes a new role as the nice king and all of the princesses in Ooo fall in love with him. Even Finn and Jake fall for the Ice King's newly shaven version, and ask if they can be his nice knights. In "The Chamber of Frozen Ice Blades" the Ice King and his penguin Gunter go to the hospital and find out that Gunter is pregnant. In "Hitman" the Ice King hires a hitman to go after Finn and Jake, and then hires a "hitman hitman" after the hitman betrays him. In "Still" the Ice King performs his most evil deed yet; paralyzing Finn and Jake with a potion and then trying to become friends with them. In "Wizard Battle" the Ice King enters the wizard battle competition to receive a kiss from Princess Bubblegum.
Gallery
Community content is available under
CC-BY-SA
unless otherwise noted.