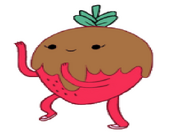 Chocoberry
Chocoberry is what would be a "Chocoberry", a strawberry dipped in chocolate. In "Slumber Party Panic" Chocoberry dares Mr. Cupcake to take off his wrapper, and he does so, revealing a nasty mixture of icing and chocolate. She speaks with a French accent. She is the first one seen eating the sweets inside the candy zombies' guts. She is also seen in "Too Young".
Community content is available under
CC-BY-SA
unless otherwise noted.